Lil Red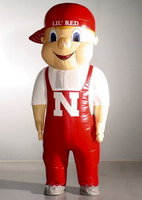 University of Nebraska
Lil' Red is the newest mascot of the University of Nebraska-Lincoln's sports teams. Lil' Red can be seen dancing on the sidelines of a Nebraska football game at Memorial Stadium or at the Bob Devaney Sports Center during basketball games. ESPN college football commentator Kirk Herbstreit states that Lil' Red is his favorite mascot. Lil' Red is a crowd favorite, and his trick of bouncing on his head is welcomed by all spectators at sporting events.
Lil' Red is known as one of the first in sports mascot inflatable characters. He was created by a company called Signs and Shapes out of Omaha, Nebraska just up the road from the University of Nebraska's home in Lincoln.
Based on the success of this 8 foot tall country boy, sports teams all over the USA have gone out and purchased their own inflatable egos to entertain their fans.
A true pioneer in the mascot world, Lil' Red deserves some props and we at the Mascot Hall of Fame are here to give them out!