Big Red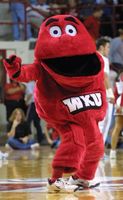 Western Kentucky University
Click Here to See Video.
Introduced in 1979 * Elected to the Capitol One All-American Mascot Team for the first three years of existence (02-04) * Finished #2 at UCA Cheer Camp in 2005 * Chosen to be one of the top 5 mascots in the South (Southern Sports Awards) * Chosen to participate in 2005 NCAA Mascot Mania * CollegeHoops.Net's Favorite Mascot in 2004 * One of USA Today's Top Mascots in College and Professional Sports in 2005
Big Red has been recognized nationally as a mascot and an ultimate fan of intercollegiate sports. These 23lbs of Big Red love are known by thousands as the heart and soul of Western Kentucky University. Big Red was the centerpiece of ESPN's promotion of the 25,000th SportsCenter airing in August 2002, was selected to the first-ever Capital One All-America Mascot Team, was featured in a television advertising campaigning and competed against 11 other mascots for the title of Capitol One National Mascot of the Year in 2003 and 2004. He's been belly sliding, crowd surfing, and cheering his way in out of commercials and competitions for the past twenty years. Big Red's favorite events include the Special Olympics, Relay for Life, Arthritis charity events and more. Big Red's community events even outnumber sporting events two to one.