The Famous Chicken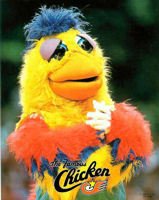 San Diego, CA
The Famous Chicken—also known as the San Diego Chicken, the KGB Chicken or just The Chicken—an advertising mascot played by Ted Giannoulas, was hatched in 1974 when employees of KGB-FM hired Giannoulas (then a student at San Diego State University) from off-the-street to wear a chicken outfit for a promotion to distribute easter eggs to children at the San Diego Zoo. The Chicken, whose antics entertained steadily larger crowds, moved on to features at concerts and sporting events (appearing at more than 520 San Diego Padres games in a row). Conflict emerged between KGB Radio and Giannoulas, and the latter was fired in 1977. Another unnamed employee was hired to don a chicken outfit at a Padres game. Fans, many of whom were aware that Giannoulas was not in the outfit, booed the chicken loudly. After a lawsuit was decided in Giannoulas's favor in June 1979, Giannoulas was allowed to continue to perform in a chicken costume (though not the same as the original costume), and his Chicken emerged from his egg at a "Grand Hatching" seen by 47,000 people as the theme from 2001: A Space Odyssey played. The Chicken was named one of the 100 most powerful people in sports for the 20th century by The Sporting News.
The success of the Famous Chicken helped lead to mascots becoming widespread throughout professional sports, particularly Major League Baseball.
Early in the first Holiday Bowl, uninformed security guards attempted to eject the Chicken from the field. He sat defiantly on the sidelines as the mistake was ironed-out. Meanwhile, as Brigham Young University was working their way through the red zone for a touchdown the crowd was chanting, "We want the Chicken."
The Chicken appeared at WrestleMania XV and WrestleMania 2000 although the costume was worn by Pete Rose at WM XV.
The Chicken (Giannoulas) was once sued by the producers of the show Barney & Friends for beating up a Barney look-alike. The Chicken won the case, with the court holding that his performance was satire protected by the First Amendment.
In 1979, the Chicken recorded a cover of Rod Stewart's disco hit "Da Ya Think I'm Sexy?"
From 1980 to 1983, the Chicken co-starred with catcher Johnny Bench on the NBC TV show The Baseball Bunch, an educational program for children.
No one can deny this feathered fowl the distiction he so rightly deserves. As the one who started it all, we are honored to induct The Chicken into the Mascot Hall of Fame!