Billy the Marlin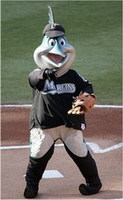 Florida Marlins
Since making his debut February 25, 1993, Billy the Marlin is no fish out of water in front of crowds, on the baseball field and in the South Florida community. He was hand-picked not only for his skill cunning and great competitive nature, but most of all for his outstanding sense of humor and great rapport with baseball fans of all ages.
The nearly seven-foot tall, 250 pound fish is a natural-born entertainer and good-natured prankster (always in good taste—of course). As far as Billy is concerned, anything baseball related is considered "fair game." Fans would not be surprised to see Billy using a Mets jersey as a doormat or putting a pie in the face of an unsuspecting Phillies fan during one the home games. But, he isn't just about getting the laughs; he loves to greet Marlins fans as they enter the stadium, cool off with fans and DJ MDot at Bud Beach during the games and blast t-shirts and other Marlins giveaways into the stands to unsuspecting crowds.
The South Florida community is HOOKED on Billy the Marlin, and he can be spotted at more than 300 events throughout the year. Billy enjoys doing anything with kids because he is a self-admitted minnow at heart. He especially likes being able to make a difference through the Florida Marlins Community Foundation (FMCF), which was established in January 1999. Just this year, Billy kicked off the 2008 season by surprising residents with free gas at a local gas station, taught summer campers in the city of Miami about sun safety and rewarded high school students in Coral Gables for wearing their seat belts in support of the Florida's Click It or Ticket campaign. Aside from the charitable events Billy attends, schools, churches, businesses, private residences, etc. all try to reel in Billy to their events for entertainment.
When Billy the Marlin is not hard at work he can be found enjoying his favorite movie, A Fish Called Wanda while snacking on a tuna and sardine sandwich. He also has his own MySpace page where he posts photos and videos of his wild antics, including riding the Boomer's rollercoaster, hanging off the side of the Bank of America building in Downtown Miami and super-soaking South Beachers.