Globie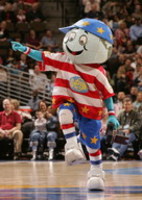 Harlem Globetrotters
Our beloved mascot, Globie, loves making people smile. Dancing, cheering, meeting fans and giving high-fives, Globie is a symbol of worldwide goodwill and family fun.
Globie always dreamed of being a mascot. In fact, he went to mascot college and studied with such greats as the Phillie Phanatic, the Famous Chicken and the Phoenix Suns Gorilla.
After graduating at the top of his class, Globie became the mascot of the Harlem Globetrotters, the perfect team to fit his style of fun, energy and making kids laugh. He has been entertaining fans around the world ever since.
20 Questions with Globie:
When is your birthday? – April 22 (Earth Day)
What is your favorite sport? – Basketball
Favorite color? – I have three of them: red, white and blue
What's on your iPod? – "7 Things," by Miley Cyrus, "Burnin' Up," by the Jonas Brothers, "Leavin'," by Jesse McCartney, "YMCA," by the Village People…and of course, "Sweet Georgia Brown," by Brother Bones
Favorite movie? – "Happy Feet"
Who is your idol? – The Phillie Phanatic
Favorite healthy snack food? – Anything round
Best kept secret? – I can really wail on Guitar Hero
Favorite book? – "Smash! Crash!," by Jon Scieszka (It inspires me for Campbell's Soup Bowling)
I've seen you whipping around with ease on your kick scooter at Globetrotter games. Do you think you could beat Shaun White in a skateboarding competition? HA! Maybe in a video game, but not on a real skateboard. But that's OK, because he couldn't beat me in a dance contest.
How did you learn how to dance? – One day at the beach, I had sand in my shoes and shorts. I was hopping and bouncing around, flailing my legs and feet to try and get rid of it all at once. People were watching and laughing, so I turned it into a dance routine.
Favorite TV show? – "The Amazing Race." Those people get to go all over the world and have cool experiences, just like me, Flight Time, Wildkat, and the rest of the Globetrotters.
If they made a movie about your life, what actor would play you? – Zac Efron, the guy who plays Troy Bolton in the "High School Musical" movies. He's not quite as good-looking as I am, but he's about as close as anyone can get.
What kinds of things do you do to get ready for a Globetrotters show? – I drink plenty of water before (and during) the show, because it's important for energy and to stay healthy overall. Special K also taught me some great stretching exercises that I do to get ready so I don't hurt any muscles. Then I listen to some cool music to get my feet moving and get me pumped up, like "Shake It," by Metro Station or "Lose Control," by Missy Elliot.
Favorite Globetrotter move? – I think it's awesome when Scooter spins the ball on his head, but it makes me a little dizzy…LOL
If you could have any animal in the world for a pet, what would it be? – I would say a kangaroo. That way, I could keep all of my costumes and props in its pouch.
What is the strangest thing a fan has ever asked you to sign? – One time, a boy asked me to sign his forehead. I wonder what he thought when he looked in the mirror and saw "eibolG"
Do you have any hobbies? – I like doing anything outside that involves running and jumping around, just being as active as I can.
Where did you hide my hat? – Hey! Who let Big G get on here to ask questions?
If you could be a tree, what kind of tree would you be? – Why would I want to be a tree? It's too much fun being Globie!
Make sure you catch the Globetrotters when they come to your town, so you can check out Globie and his posse, Big G and Little G, and their hilarious antics.