Rocky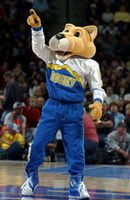 Denver Nuggets
Rocky the Mountain Lion Nuggets Official Mascot
NBA Debut: Dec. 15, 1990 Birthplace: Rocky Mountains Height: 5-10 Weight: 154 lbs. Tail Length: 3 feet
One of the most recognizable and beloved mascots in the NBA, Supermascot Rocky has become a staple at every Nuggets home game. His daring acrobatics and innovative skits have made his performances eagerly anticipated by fans and players alike.
Rocky is an integral part of the community programs of the Denver Nuggets and makes countless appearances at schools of all levels throughout the state of Colorado. In addition, Rocky has made several appearances for other professional sports teams and has performed on behalf of the NBA at the All-Star Game as well as several international functions.
From sporting events to corporate outings, Rocky will make every event memorable. To book Rocky for an appearance, call the Nuggets at (303) 405-1197 or just print this Rocky request form, fill it out and either mail or fax the application to us.
Mail to:
Denver Nuggets Attn: Mascots/Jay Evans, 1000 Chopper Circle Denver, CO 80204
or
Fax to: (303) 893-8022