Hugo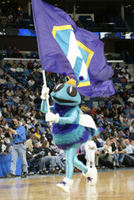 New Orleans Hornets
Click Here to See Video.
The original introduction of Hugo the Hornet included Hugo being flown in from the catwalk of the Charlotte Coliseum back in 1988. Since then this athletic, huggable, and pioneering mascot has been entertaining fans worldwide.
His alter ego, Super Hugo, brings a real Clark Kent/Superman dynamic to this hornet. Super Hugo is the proud recipient of multiple slam dunk awards including being named the NBA Slam Dunk Champion three times. In each of these victories, Super Hugo won using a groundbreaking dunk including the front flip, the helmet dunk, and "Bug on a Windshield."
In addition Hugo and Super Hugo have traveled to Australia, Argentina, Mexico, England, Italy, France, Amsterdam, Germany, Canada, Costa Rica, and Spain on behalf of both the Hornets organization as well as the NBA.
Super Hugo revolutionized the mascot world by being the first, "alter ego" of a mascot and one of the first mascots to dunk form a mini-tramp. He has even successfully dunked from the 3-point line having been launched from an actual catapult.
Hugo's role in the community is described as literally being the face of the Hornet's organization. Hugo's involvement off the court has proven to be one of his most important functions in each of the respective communities he has called home over the years. Hugo has been actively involved with programs such as D.A.R.E., Read to Achieve and other literacy programs, Stay in School programs, and he has been seen buzzing around the construction sites of multiple Habitat for Humanity projects for several years.
Both Hugo and Super Hugo have been featured on NBA All-Star broadcast, ESPN highlights and blooper reels, along with numerous commercial spots for Fox Sports, TNT, ABC, and ESPN to list a few.
The buzz around this guy is pretty good!