Smokey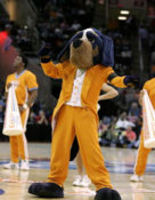 University of Tennessee
Smokey is the mascot of the University of Tennessee sports teams. These teams, named "The Volunteers" and nicknamed "the Vols", use both a live and a costumed version of Smokey.
The mascot has gained fame for competing in national mascot competitions and appearing in the Capital One National Commercials.
Smokey appears at every Vols game exciting the crowd with his on field antics and signature dance moves. He is a perennial favorite to win the UCA Mascot National championship and has done so on several occasions. The University of Tennessee has a female counterpart that appears at the women's athletic events.
Outside of sporting events, Smokey is a regular in the community giving countless hours to benefit deserving causes.
Smokey just has a way!