Sebastian the Ibis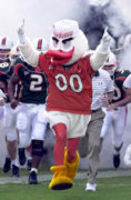 University of Miami
Sebastian the Ibis is the official mascot for the University of Miami. He is an anthropomorphized ibis with a Hurricanes football jersey, jersey number 00.
The ibis was chosen as Miami's unofficial mascot in 1926 when the school's yearbook chose its name to be "The Ibis." According to folk legend, the ibis is the last sign of wildlife to take shelter before a hurricane, and the first to return after the storm passes. Also, the ibis is native to the Everglades.
Sebastian was created in August, 1957 and was named after former University of Miami residential college, San Sebastian Hall. It was then that the ibis was used as a homecoming competition entry. The next year, student John Stormont performed at Hurricanes football games dressed up in a makeshift ibis costume. The current costume dates from the 1980s.
Sebastian typically leads the University of Miami team on to the field at Miami's Orange Bowl. Miami's dramatic entrance at the Orange Bowl, in which the Hurricanes charge onto the field through a billowing cloud of white smoke, is considered one of the most recognizable traditions in American college football.
Through the years, the Ibis has become one of the most well known college mascots in the United States.